Step up to the States: How the Brand USA MegaFam helps to boost agency sales
-
This year Brand USA will host its biggest ever MegaFam, taking 107 agents to the States to explore seven action-packed itineraries – all ending in Chicago, where participants will meet for the finale.
Last year's trip saw 100 lucky sellers journey the length and breadth of America, on adventures ranging from visiting Pennsylvania's Amish communities to exploring the lights and sights of the Las Vegas strip by helicopter.
To give you a bigger taste of what to expect from this year's trip, we speak to three members of 2016's cohort, who share their highlights and explain how the experience changed the way they sell the United States.
Always something to learn
Jennifer Saxby, senior sales consultant at AmeriCan & Worldwide Travel, may already be a USA sales veteran; however, her participation in the MegaFam showed her that there was always more to learn.
"It definitely helps when selling places I may not have had such strong knowledge of. For example, it has given me a good grounding in Las Vegas and its hotels. I've also learned about the accommodation around the Grand Canyon that I wasn't aware of before," she says.
Saxby embarked on the Lights & Sights itinerary, flying into Las Vegas before taking in Nevada, Arizona and Utah.
"It was a fantastic mixture of canyons, cities and deserts. The highlight was taking a heli-tour of the Vegas strip at night. Second to that was Utah, where we visited the Zion national park and went horse riding and hiking. Afterwards, we headed to a city called Kanab, where they filmed a lot of the classic Hollywood westerns. We even made our own movie."
Since returning from the fam, Saxby has sold all the areas of the USA that she visited, with a three-night camping trip booking to the Grand Canyon currently in the pipeline. She reveals that the fam has changed the way she sells the USA and as a result helped to bolster sales.
"I try to sell more activities to my clients within their itineraries rather than a simple fly-drive holiday," she says.
Educating herself about the destination hasn't taken a back seat either. Saxby has since completed the Montana specialist badge and continues to use the Brand USA Knowledge Forum.
"I would love to go on the next MegaFam but since we are a small agency I have to give somebody else a turn. Everything is incredibly well organised. I've spoken to agents who experienced other itineraries and they say the same. It's fantastic."
Top travel tips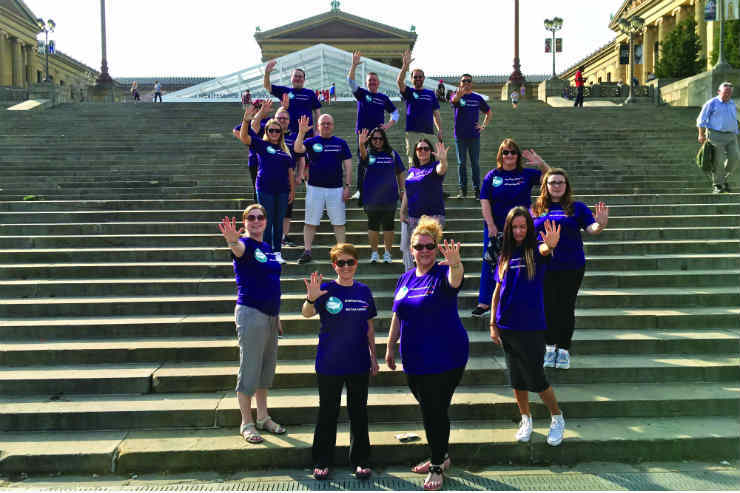 Last year's MegaFam gave Amanda Sykes, managing director of Scapa Travel, a solid grounding in the areas of the United States that she wasn't so familiar with.
Once an exchange student in America, Sykes was already confident in selling the south-west of the country. However, she still wanted to learn more.
"The fam showed me a part of America that I had never seen before," she says. "It does make it easier to remind people about the American culture – for example, tipping. You don't want to get a grumpy waiter because you haven't tipped them correctly."
As part of the Five State Splendour itinerary, Sykes visited Pennsylvania, West Virginia, Virginia, Delaware, and Maryland.
"My favourite part was the zip line at Harpers Ferry national historical park; it had just been raining but flying through the forest canopy was still beautiful. We also did the Rocky Steps and took a picture next to the Rocky statue."
Sykes has used her experience of the MegaFam to sell the States differently – helping with travel tips, for example.
"The fam helps me inform customers that it's really easy to take a train or fly to a certain place," she says. "America is one of those countries that you can see in any way and in any order as long as you have
the time."
There have been positive outcomes in terms of the agency sales too, Sykes adds.
"We have sold Philadelphia more, which is good as it tends to get ignored. I've learned that it's very easy to get to and the transfer time from the airport to the city centre is actually quite short."
Sykes has already secured her place on the 2017 MegaFam trip, winning Brand USA's social media competition, which she is delighted about. She says that the packed itinerary – with variety to satisfy all kinds of clients – makes the MegaFam stand out from the rest.
"Brand USA does a really good job of making sure we experience the destination and do the things that our clients would want to do. This makes it much easier for us to sell."
Share the experience
Linda Brown of Killiney Travel counts herself as very lucky; the 2016 Brand USA MegaFam was the second that she has been a part of.
"Out of all the fam trips that I've done, this one is by far the best. I did the Pacific Wilds itinerary where we flew into Washington State, starting off in Seattle before journeying on to the rainforests of Oregon and ending [along with the other fam itineraries] in Huntington Beach, California."
Brown now uses her knowledge of the Pacific Northwest as inspiration for creating different packages for her clients.
"We now sell Seattle as a twin centre holiday with Huntington Beach in California tagged on. We really push this as it's something that we had never sold before. There is a definite interest in doing something different and it's really taken off."
USA training continues to be important for Linda; she has completed all of the specialist badges to date and still regularly uses Brand USA's online resources.
She has this piece of advice for agents lucky enough to be a part of the 2017 group: "This trip is a once-in-a-lifetime experience and one that you should share with your colleagues that didn't get to go.
"I would love to go on this year's MegaFam. It's just fantastic. You really get to experience the country from a client's point of view."
Read Source